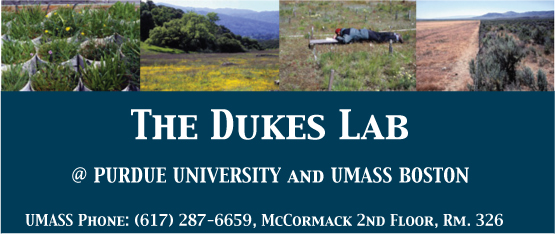 News
---



2006:

April: New NSF- and DOE-funded project begins: The Boston-Area Climate Experiment.

March: Interviewed for article on Salon.com.

January: Interview on biomass energy to appear on Sveriges Radio (Swedish Broadcasting Corporation).

2005:

September 5: PLoS Biology paper covered by BusinessWeek Magazine's "Developments to Watch."

August: Research included in "Counting Carbons" feature article in Discover Magazine. Article (may only be available to subscribers).

July 28: Another short interview appears on ABC affiliates, again via ScienCentral News. Video piece and extended interview.

Late May: Short interview on the origins of fossil fuels appeared on ABC affiliates around the United States. (Extended interview and video clip available from ScienCentral News.)




2004:

August 11: 30-minute interview on the program "Soundings" on KVMR-FM (northern California).

July 1: "Your Morning" on CN8 (Comcast's network television station for the Eastern U.S.).

March 6: Keynote speaker at the Species At Risk 2004 conference in Victoria, Canada.

March 6: Interview on the German Public Radio program "Forschung Aktuell" about parallels between plant invasions and computer viruses (interview entirely in German: 10:30am Eastern, 16:30 in Germany). The program is available online.

February 16: Several talks from a symposium at the AAAS annual meeting in Seattle, including Jeff's talk about the responses of a California annual grassland to global environmental changes, attracted the interest of national and international media. Jeff's work was covered by the BBC World Service, in the San Francisco Chronicle, Newsday, and on WBZ-AM Boston.

January 15: CNet News article about parallels between epidemics in the natural world and computer viruses (!).

January 8: Brief appearance discussing the origins of fossil fuels on BBC Radio 4's "Material World."




2003:

December 1: The paper "Burning buried sunshine" was named the fourth most popular science news story of 2003 by the EurekAlert! news service. This fall, the paper received coverage in The Economist, U.S. News and World Report, Science Magazine, and several other radio shows, print, and web outlets worldwide. Here are some links to the coverage.

November 28: The paper "Nitrogen and climate change" appeared in Science. The research results were covered by the BBC, in conjunction with results from a study of carbon exchange in Amazonian rainforest.
---
---